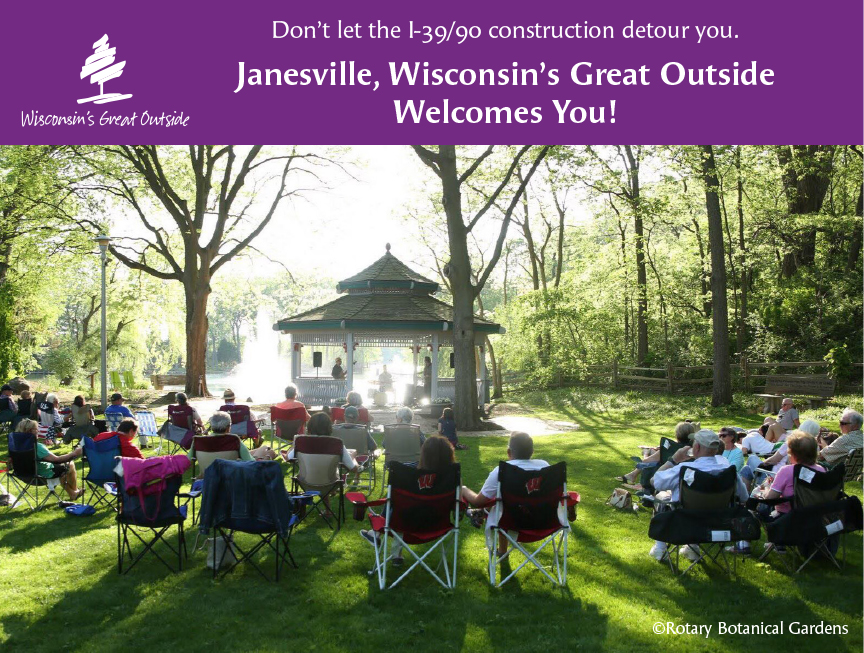 We know that road construction can be frustrating, but we also know that the construction is a means to an end with safer and more efficient travel in the future. We are grateful that you are choosing to continue to stop and patronize Janesville's many businesses and hope that the information below is helpful as you plan your travels.
Current I-90/39 Construction Information
The Wisconsin Department of Transportation has an amazing website with all of the most current information on construction routes, dates and changes in available ramps into the city of Janesville. To stay up to date with construction updates sign up for their weekly e-newsletter.

Travel Tips
Need a refresher on travel tips during construction? Check out our blog. Be sure to like our Facebook page for current updates and information.
Make a stop in Janesville
You can grab a bite to eat at one of over 100 restaurants, fill up your tank with gas, stretch your legs with a walk in over 2,000 acres of parkland or rest your mind with a visit to one of our many attractions. There are also plenty of fun events and activities to include in your travel plans throughout the summer and all are listed on our calendar of events.
Additional Janesville Information